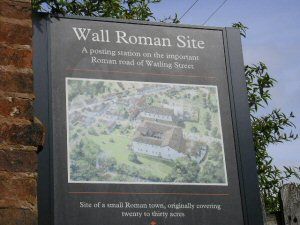 The Roman town at Wall, known to the Romans as Letocetum, lay on the Watling Street, one of the main roads in Roman Britain. At first, the army established a succession of forts at the site. Later, a civilian settlement developed as Wall became a staging post on Watling Street. Official travellers, couriers etc, could change their horses and stay overnight in the guest house and make use of the neighbouring baths, the remains of which are still visible today. There is also a small but excellent museum on the site, displaying a selection of items found including jewellery, pottery and a range of tools. It is now only opened for limited times during the week, and manned by volunteers. There is also an excellent guide book available on the site which will provide much more information than is available here. There is a location map [ HERE ]

Here on the left can be seen Wall Parish Church, rising on the hill overlooking this ancient site, over the ruins of the Guest House .....

... and below, the Bath House, with the Site Wardens office in the background.


The site is managed by English Heritage on behalf of the National Trust, and their guide book is an excellent reference covering the site itself, with reconstruction details of some of the main features, as illustrated on the left, as well as a history of Wall itself from the early Iron age through the Middle Ages and up to Modern times. It contains information about Roads, Religion, Trades and Crafts as well as depictions of daily life in those far times. For anyone interested in National or Local history, this is a must to see.

Vistitor opening times are available on the English Heritage site who have a calendar which gives the site availability times. Click [ HERE ] .. then go to Visitor Information.





Top of Page
Last updated: September 12th, 2006.