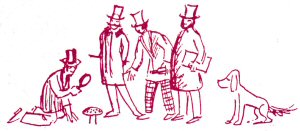 History

In medieval times, Pipe Green covered 37 acres [now 26acres] of mainly marshy land with osier beds and a stream, Leomansley Brook, running the full length. The Green was bequeathed, benefactor unknown, to the poor widows of Bacon Street, now Beacon Street, as pasture for their geese and livestock, which they led to each day and took turns to keep watch over them. In the course of time, the grazing rights were abused and it became necessary for the householders of Beacon Street to limit the number of livestock to two per household.

In 1793, a legal document was drawn up in the High Court, legalising the above and a payment of 3s.6d., [17p] per animal per annum. This is the first official document of title and is lodged in the Records Office in Lichfield Library. A Pinner was appointed to round up stray animals, and these were probably put into the Pinfold at the junction of Beacon Street and Cross-in-hand Lane which has now been renovated. A picture can be seen on the Hidden Haunts page. An Inspector collected the fees, and made sure that the rules of the legal document were adhered to. Residents of Beacon Street had to make an oath "promising to preserve the ancient rights of the Pipe Green Trust". This oath is still sworn by the Trustees to this day.





Recent History

In 1988, a new constitution was drawn up which includes such objectives as: "to maintain and repair the boundaries hereof, to preserve, plant, replant, grow and cultivate plants, trees and other growing things, to promote and encourage the growth and development of wildlife".

Eligibility for membership of the Trust is open to any householder who has resided in Beacon Street for 5 years or more, limited to one householder per household. Any person born in Beacon Street is elibible on or after the third anniversary of that person becoming a householder in Beacon Street.

Diary Dates
May 8th 2010: AGM
May 9th 2010: Beating the bounds
June 2010: Staffordshire Wildlife Walk, date to be confirmed.


Wildlife Walk
David Cadman of the Staffordshire Wildlife Trust led a walk on Saturday, June 9th last at 10.00am, starting from the car park adjacent to the football pitches on the Western Bypass.

Applications for more information about the Trust, or for membership can be found [ HERE ].


The text and images on this page are reproduced from a Booklet entitled: "The Pipe Green Trust 1793-1993" produced on the 200th Anniversary of the Green, by Rosemary Thomson and Vera Hopley.





Top of Page
Last updated: September 12th, 2006.