Three Spires
Shopping Centre




Bakers Lane entrance to the Three Spires shopping centre which is undergoing an expansion programme at the moment and new shops are soon to be errected and a new car park. The scene above shows a busy Saturday when everyone is in town. Plenty of the regular multiples as well as many small independant shops to add the local flavour and interest. The new extension will add many more shops as well as being under cover.



The Corn Exchange



Alongside the new, we find right behind us the old, where we see the old Corn Exchange building. Here it was in centuries gone by, where merchants would bring their wares to market in this rural town, which also had a cattle market here in the centre at one time, later to be displaced to the outskirts, and now outside the town altogether.

The Corn Exchange is now a fine restaurant upstairs, and little kiosk type shops under the arches below but the style of the old Exchange can still be seen from within the restaurant.



Boots - the chemist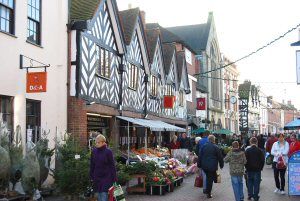 Bore Street on a busy day


And without moving, we turn again, and we have the old building now occupied by Boots the chemist. This is dated 1908 so may not be as old as it looks, but the detailing on the front is worthy of examination.



The new Garrick Theatre


And behind the Three Spires shopping precinct we have the new Garrick Theatre, risen like a phoenix from the old Civic Hall in Wade street.



Click through the picture to view the old, and building progress stages up to the present day.






| | | |
| --- | --- | --- |
| Tamworth Street towards the City Centre | | Tamworth Street from Boots - see above |




Registry Office

If you want to get married here in Lichfeld, and don't want a church wedding, this is the place - the Registry Office, with Beacon Gardens to the left for your photographs.

This building which stands in Beacon Street on the north end of the Dam over Minster Pool, opposite the Memorial Gardens, used to be the Library and Museum, and still has a stone plaque on the upper wall over the entrance that says "Free Lending Library". Just beyond, on the right of the picture, and opposite Erasmus Darwin's House, can be seen the end of David Garrick's House which is now used as Council Offices.





Top of Page
Last updated: July 11th, 2014.