CATEGORY HEADINGS
HOME
Accommodation
Computers
Education
Health Products
Home improvement
Translation Service
LEISURE
Camping & Holidays
Entertainment
Humour
Rock Bands
Speculative
Travel & Tourism
LIFESTYLE
Church
Health
Pressure Groups
Scouting
Voluntary Organisations
MANAGEMENT
Accountancy
Business Clubs
Consultancies
Other Local Businesses
Pensions
INDUSTRIAL COMPANIES
Air freight
Building & Engineering Trades
Heating & Ventilation
Printers
FOREIGN LANGUAGE
Translation Service

WEB SITE DESIGN
Glossary of Internet Terms
Statistics
Useful Links to other sites
Web Design hints and tips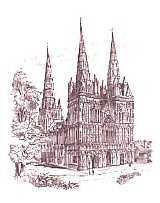 Lichfield Cathedral


Lichfield is a beautiful City and we have prepared a virtual tour which you can access from the Leisure Section above, or by clicking [ HERE ] Enjoy a walk though our City and gardens.

In case you were wondering, Dorothy, featured at the top of the page, - sex always sells so they say - is our office assistant and proof reads all our stuff, so if you spot any typos or spelling errors, then blame her and kindly lets us know. She does, however, make a good cup of coffeee so don't shout too loud



If you would like to make an enquiry or leave a message go to the -


- page



Ring, E-Mail, or Fax us now, and find out a little more ....... Tony Cadwallader
Visit us by E-Mail:

LICHFIELD WEB DESIGN
119 Beacon Street
Lichfield
Staffs WS13 7BG
ENGLAND


| | |
| --- | --- |
| Tel/Fax: | 01543 254494 |
| Mobile: | 07985 982858 |


Hits since May 2005: 126338


Updated: March 13th, 2021.

At Lichfield Web Design we specialise in small and medium size businesses, whether you need a simple web site in order to encourage enquiries for your products and services, or whether you need an interactive web site that will provide shopping online.

We handle regular HTML as well as Perl and PHP script languages, the later two providing online shopping as well as such processes as restaurant remote ordering, membership registrations, camp site and hotel bookings, speciality email, data collection and storage, statistical information, notice boards, data retrieval, password protection, picture gallery pages, and many more.

We look after your web site for you, and provide a search engine listing service as all part of the service.

Your web site needs to succeed, and we give you year round backup to see that it does.