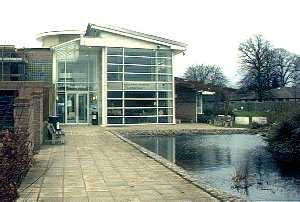 The SULC

Staffordshire University Lichfield Campus




Networking
Business Help
Customers
Suppliers
Ideas
Exhibitions
Marketing
Credit Control
IT Training
Interesting Speakers
Where do we go from here .......






Club Programme

All meetings take place starting at 7.30pm, on the first Wednesday in the month, and are at the University Building opposite the Swan Link Road Island in Lichfield, illustrated above, unless otherwise stated.

December 5th: Christmas Dinner at the Eastern Eye, plus presentation by its award winning owner

January 2nd, 2002: Andy Willday, a mobile personal fitness trainer will show us how to cope with the seasonal excesses

February 6th: Rachel Bailye of Business Training Staffordshire will profile how she can help our club members.
Index
Club Contacts
Index
Aims & Purposes
The aims and purposes of the club shall be:-
To further the interests of small businesses and business people in Lichfield District and surrounding areas
To provide a regular forum for business interchange which is advantageous to members
To contribute to the support of initiatives and organisations which exist to serve small business needs and improve the local business climate
To arrange a programme of monthly events containing topics of relevance and interest to members invloved in a small business
Membership of the Club is by annual subscription to cover the year January to December. Subs are payable in January each year and are currently £22.00 per member. People wishing to join throughout the year will have their subs adjusted according to Club rules.

The Club meets on the first Wednesday of each month (unless there is a clash with major public events such as the Web authors birthday) at the Staffordshire University Lichfield Centre opposite the Swan Link Island, Lichfield at 7.30pm.

There is a monthly newsletter called "Despatches" which reports on relevant events in the Club. This is normally delivered by post about halfway between meetings. However, if members wish to receive theirs by E-Mail, please contact the editor at alan@carshaw.demon.co.uk.

There is quite a lot of informal networking that happens within the Club. Many members have gained mutual business advantage as a result; others have formed lasting friendships which they would not have otherwise made. Guidelines on how to make your networking more effective are available from Alan Shaw, tel: 01889 584147.
Index
| | |
| --- | --- |
| If you would like to leave a message go to the - | |
Lichfield District Business Club
80a Upper St John Street, Lichfield, Staffs WS14 9DX
England
Tel: 0044 (0)1543 410420 or Fax: 0044 (0)1543 417417
ooooooooooo


Top of Page
Last updated: February 12th, 2002.
This Page address: http://www.ldb.co.uk/ldsbc.shtml
Published by: Lichfield Data Base